AUGUST BURUNDI AFRICA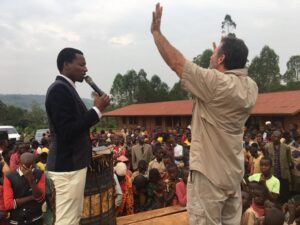 IN JANUARY 2020 DURING OUR BURUNDI OUTREACH TRULY WE EXPERIENCED THE GLORY OF OUR RESURRECTED SAVIOR IN CHURCHES, OUTDOOR PREACHING EVENTS, AND PASTOR CONFERENCES!
WE SAW PRECIOUS SOULS PRAY TO RECEIVE JESUS AS LORD AND SAVIOR ALONG WITH PHYSICAL HEALINGS!
MANY EMBRACED THE WATCH THEREFORE MESSAGE AS I WARNED ABOUT THE CORONA VIRUS PESTILENCE AS A BIRTH PAIN FOR THIS GENERATION JUST AS OUR SAVIOR TOLD US! (MATTHEW 24:7)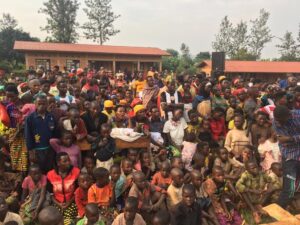 OUR PARTNERS IN BURUNDI ARE PREPARING SPECIAL ONLINE PREACHING OPPORTUNITIES FOR PRECIOUS POOR PEOPLE AND WE EXPECT EVEN MORE SALVATIONS, HEALINGS, AND HOLY SPIRIT CONFIRMATIONS AND PRESENCE POINTING US ALL TO MESSIAH JESUS JUST BEFORE HE COMES FOR US!
WE ARE ALSO DOING AN ALL DAY WATCH THEREFORE SEMINAR FOR PASTORS AND CHURCH LEADERS!
WE WILL PROVIDING FOOD FOR THEM, ALONG WITH THE POOR TO WHOM I WILL BE PREACHING, AND THEN SHARING THE BREAD OF LIFE MESSIAH JESUS!
AS THE HOLY SPIRIT LEADS PARTNER WITH US IN PRAYER AND FINANCES

Giving audio Bibles to those who cannot read!

The Lord did amazing things in our recent trip to Rwanda! Here is a short testimony of something that happened!
SEPTEMBER RWANDA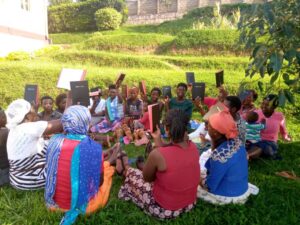 I PREACHED THE WATCH THEREFORE MESSAGE AND THE GOSPEL OF OUR SAVIOR JESUS IN BURUNDI JANUARY/FEBRUARY 2020 JUST BEFORE THE CORONA VIRUS SWEPT THE WORLD!
THERE WE EXPERIENCED THE GLORY OF OUR RESURRECTED SAVIOR ALONG WITH MANY PRECIOUS SOULS RECEIVING JESUS AS SAVIOR AND LORD!
IN ONE MEETING WE LITERALLY SAW 105 PROSTITUTES AND MANY STREET YOUTH STAND UP AND REPENT AND PRAY TO RECEIVE JESUS AS LORD!
OUR RWANDA MINISTRY PARTNERS TELL US THAT THE LADIES AND MANY OF THE YOUTH ARE GOING ON IN THIER FAITH IN MESSIAH JESUS—OH HALLELUJAH!
OUR MINISTRY PROVIDED BIBLES FOR ALL THE LADIES!
IN OTHER MEETINGS WE SAW HUNDREDS OF PRECIOUS SOULS COME TO OUR SAVIOR TO BE FORGIVEN OF THEIR SINS AND GIVEN ETERNAL LIFE!
IN RWANDA AND BURUNDI WE SAW 900-1,000 PRECIOUS SOULS PRAY TO RECEIVE JESUS AS LORD!
I HAVE BEEN INVITED BACK TO RWANDA FOR TWO FOUR OR FIVE DAY OUTDOOR PREACHING EVENTS SEPTEMBER 7-18—THE ENTIRE TRIP WILL BE SEPTEMBER 5-20.
WE PRAYERFULLY EXPECT TO SEE MANY MORE GET SAVED AND FOR MANY MORE TO BE HEALED AND SET FREE UNDER THE GLORY OF OUR SAVIOR JESUS!

Many repent and come to the Lord on a hillside in Rwanda!
OCTOBER INDIA
LORD WILLING, WE WILL BE PREACHING OUTREACHES IN INDIA IN OCTOBER. OUR VERY SPECIAL MINISTRY PARTNER ARCH-BISHOP REINHARD IS OVER 1,000 GOSPEL AND REVIVAL CENTERED ANGLICAN CHURCHES IN INDIA.
THE ANGLICANS IN AFRICA AND INDIA ARE VERY DIFFERENT THAN MANY IN OTHER PARTS OF THE WORLD—THEY ARE FIERY HOLY SPIRIT LED DISCIPLES OF MESSIAH JESUS!
ARCH-BISHOP REINHARD SHEPHERDS 2,000 CHURCHES—THEY ARE IN EVERY STATE IN INDIA! WE ARE PRAYERFULLY PLANNING DATES AND EVENTS FOR OCTOBER. PLEASE ALSO JOIN US PRAYERFULLY FOR THIS WATCH THEREFORE/GOSPEL OUTREACH OPPORTUNITY!
BISHOP REINHARD VISITED ME IN ISRAEL FOR A WEEK LAST YEAR—WHAT A SPECIAL TIME WITH THIS DEAR BROTHER!
DONATE TODAY!
FOR THOSE WHO WOULD LIKE TO FINANCIALLY PARTNER IN OUR GOSPEL/OUTREACH 2020—GO TO OUR DONATE PAGE AND CHOOSE ONE OF THESE GOSPEL/DISCIPLESHIP OPTIONS:
1) WATCH THEREFORE TV/MEDIA
2) POURED OUT FOR THE NATIONS