August 2016
Dear Poured Out Followers Of Messiah Jesus
Well this is it! This is the month we go with the gospel of Messiah Jesus! This is the month we go to make disciples and help pastors! This is the month we go to be ambassadors for Messiah Jesus and show the love of our Abba Father in Heaven to orphans and widows! This is the month we go to A REFUGEE CAMP AND CHURCHES IN UGANDA AUGUST 27-SEPTEMBER 4!
Here are a few verses of scripture that are a lamp unto our feet and a light to our path:
Mark 16:15 And he said unto them, Go ye into all the world, and preach the gospel to every creature.
Luke 14:23: Then the master said to the servant, 'Go out into the highways and hedges, and compel them to come in, that my house may be filled.
Matthew 28:18 And Jesus came and spake unto them, saying, All power is given unto me in heaven and in earth.
19 Go ye therefore, and teach all nations, baptizing them in the name of the Father, and of the Son, and of the Holy Ghost:
20 Teaching them to observe all things whatsoever I have commanded you: and, lo, I am with you always, even unto the end of the world. Amen.
Psalm 68:5 A father of the fatherless, and a judge of the widows, is God in his holy habitation.
---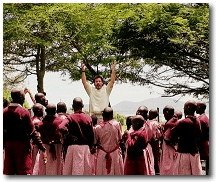 So, in light of these passages here are our primary plans:
Church Preaching Events:
When the people of these cities, towns and villages in Uganda hear of Americans and Israelis coming to visit them, many will come out to hear that usually would not be in church. This is a great opportunity to preach the gospel and compel precious souls to come into the Kingdom of God through our Lord Jesus! Also, in these times we will also be teaching the Bible to many who love Messiah Jesus and need to hear fresh teaching from His word!
Pastor Conferences: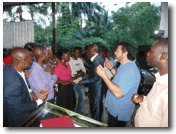 We have two such wonderful opportunities in Uganda to teach the prophetic word of God to Pastors. Thankfully, our Abba Father has much love for these men of God who are serving the body of Messiah Jesus in terribly difficult situations. May our Lord Jesus raise up from these men a powerful witness of His love and grace!
Visiting Orphans:
The greatest joy of this life is a pure faith and walk with our Lord Jesus Christ! His word tells us that pure and undefiled religion visits orphans in their time of trouble. On this Kingdom excursion we will be visiting and ministering to over 300 orphans–Hallelujah! May our Abba Father give us His love to give to them!
---
Prayer Points: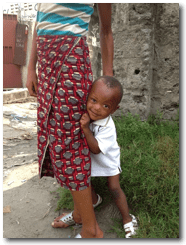 * A great filling of the Holy Spirit upon Dov, David, and Darian (our team).
* Travel mercy and protection on the ground.
* Many souls saved, authentic discipleship, many blessed and God touched orphans.
* Financial resources for pastor conferences, orphan work, and other outstanding financial needs-hotel rooms, rental car, etc.
* Fellowship with pastors, and others.
* Eyes that can see and ears that can hear for all concerned.
* Anything else the Lord places on your heart to pray.
Remember: PRAYING, GIVING, GOING are three primary components to missions work. Where do you fit in?
Blessings and Grace in Messiah Jesus,
Dov Schwarz
Send your tax deductible gifts to:
Poured Out For The Nations
PO Box 564, Pearland, TX 77588 USA
Phone: 832-878-0756 Email: [email protected]
Or Donate Online At:
www.PouredOutForTheNations.com
Also visit our blog address!
www.PouredOutForTheNations.com/blog
Poured Out For The Nations is a division of Watch Therefore Ministries, Inc.