September 2016
Dear Poured Out Followers Of Messiah Jesus
---
I have a special report from our time in Uganda and how SPECIAL it really was! How kind our Savior was to us as we preached His name and gave glory by good works of grace to our Father in Heaven. There are four primary matters of testimony I will mention. But first here is a passage of scripture that we found to be powerful and fruitful during our time:
1 Corinthians 1:26-2:5: 26 For you see your calling, brethren, that not many wise according to the flesh, not many mighty, not many noble, are called. 27 But God has chosen the foolish things of the world to put to shame the wise, and God has chosen the weak things of the world to put to shame the things which are mighty; 28 and the base things of the world and the things which are despised God has chosen, and the things which are not, to bring to nothing the things that are, 29 that no flesh should glory in His presence. 30 But of Him you are in Christ Jesus, who became for us wisdom from God-and righteousness and sanctification and redemption- 31 that, as it is written, "He who glories, let him glory in the Lord."
1 Corinthians 2:1: And I, brethren, when I came to you, did not come with excellence of speech or of wisdom declaring to you the testimony of God. 2 For I determined not to know anything among you except Jesus Christ and Him crucified. 3 I was with you in weakness, in fear, and in much trembling. 4 And my speech and my preaching were not with persuasive words of human wisdom, but in demonstration of the Spirit and of power, 5 that your faith should not be in the wisdom of men but in the power of God.
---
Our Team: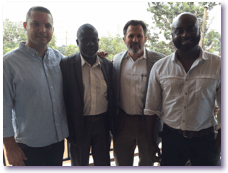 Our three man team was so blessed to go and minister with our African partner Pastor Muhoza Lewi in Uganda on this nine day trip. Two of us departed from Ben Gurion airport in Israel and one from DFW in Texas. It is so special that two Israelis went out from Israel with the gospel of Messiah Jesus-how refreshingly Biblical (Acts 1:8). Our Brother from Texas, Darian Thomas, was also so well received by those in Uganda as he is an African American who loves Messiah Jesus and people. We were "Team Jesus" in Uganda and what an honor to minister to these precious souls.
---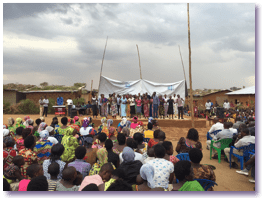 The Churches:
Saturday evening, just hours after our arrival, we went to work in the churches. Upon arrival, it was obvious to our team that these are special followers of Messiah Jesus as His Holy Presence met us before we were even inside the building. Like all the other churches we visited they danced, sang, and with all their hearts praised this King of kings and Lord of lords! What glory fills their souls and He filled our team as well!In the churches our team gave words of encouragement, expressions of love and support, and I preached the gospel and taught the Bible. I also led two pastor conferences for a total of three days. What special men of God who shepherd these precious souls who so deeply need and love our Father in Heaven and His only begotten Son. The Holy Spirit operates so tangibly and powerfully in the midst of His people in Uganda. They truly are at the edge of what we so deeply need: REVIVAL!
Think of this: In these churches, though they have such committed pastors and fiery believers, there were some who had not yet been saved. We watched as the Holy Spirit called and filled over one hundred souls in the churches to pray and receive Jesus as Lord! What joy to know we were involved in such eternal and glorious work of the Holy Spirit.
---
The Refugee Camp and The Orphans:
The Nakavale Refugee Camp in Uganda is an enormous land mass that is a refuge for many African people groups including people from Sudan, Somalia, Eritrea, Central African Republic, DR Congo, Burundi, and others. We spent time singing, talking, and had a special feast with about three hundred and sixty orphans and vulnerable children who have been saved from the violence in Burundi and the Congo.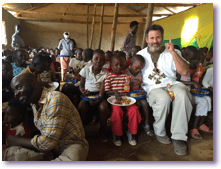 What joy filled our souls and yet sorrow filled our hearts to hear their stories and see them living in these conditions-in this area of the camp there is no running water or clean drinking water or electricity and the other living conditions were worse. In America, our dogs and cats have better physical living conditions! Yet these precious children know they have a Father in Heaven and at a very early age are learning how to trust in our Savior!
Frankly speaking, in some ways they are much better off than American kids–why or how? Most American kids go to a school where they are taught from an early age to grow up and believe that there is no God and that we came from monkeys. While most American kids are intentionally being prepared to become godless adults these children are learning that Messiah Jesus is our only hope! Better to have fewer temporal things with a heavenly eternity than to have the world's comforts and go to hell. Please continue to pray for the people and especially the orphaned children at this camp and we will have updates as we continue to process our pictures and video. We even plan on producing a television program from this trip. Lord willing, we plan on going back early in 2017.
I pray that these things and this snap shot of our trip will stir you up to good works and that you might pray, give, and/or even go with us as we are Poured Out For The Nations!
---
Blessings and Grace in Messiah Jesus,
Dov Schwarz
Send your tax deductible gifts to:
Poured Out For The Nations
PO Box 564, Pearland, TX 77588 USA
Phone: 832-878-0756 Email: [email protected]
Or Donate Online At:
www.PouredOutForTheNations.com
Also visit our blog address!
www.PouredOutForTheNations.com/blog
Poured Out For The Nations is a division of Watch Therefore Ministries, Inc.