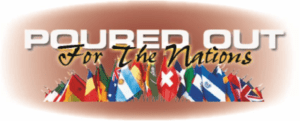 "We are rejoicing to be
Poured Out For The Nations!"
Philippians 2:17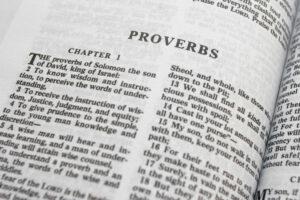 Dear Poured Out Disciples of Messiah Jesus,
The Book of Proverbs is one of the greatest sources of wisdom known to mankind. A passage from this wisdom book is appropriate to begin this letter. May this Bible verse, and another one that is a perfect "cross" reference, touch your heart as you consider the content of this Poured Out For The Nations update.
"The fruit of the righteous is a tree of life, And he who wins souls is wise." Proverbs 11:30
"for the Son of Man has come to seek and to save that which was lost." Luke 19:10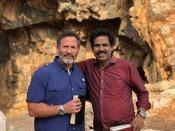 With all the legitimate matters to be concerned about these days, it is important to make sure we are not distracted away from the mission of our Savior Jesus—to see souls saved! As I am typing this letter I am prayerfully considering a January 2024 mission trip to India—my first time to India! Our very special ministry partner Arch Bishop Reinhard oversees 2,000 churches in India! He has invited me for a visit to preach the gospel and bring the Watch Therefore message to precious souls all over the country.
Bishop Reinhard visited me while we were living in Israel and has been a guest on my TV program Watch Therefore. We prayerfully and financially support his very powerful gospel/discipleship work monthly. For about four years we have been praying about my visit to India and Lord willing January will be the time. Please join me in prayer and I will keep you posted.
---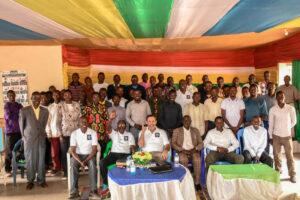 Ongoing Africa Gospel/Discipleship Outreach
As many of you know, back in August we saw over 600 pray to receive Jesus as Lord in Rwanda and Eastern DRC (Democratic Republic of Congo). We are in ongoing discipleship work with many of them in Rwanda at this time. Our Africa Watch Therefore team recently met with them in a two- day morning and then afternoon teaching sessions. Please do prayerfully consider joining us to support this very fruitful work in the Lord's field of harvest.
---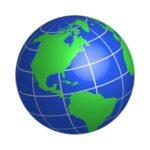 Watch Therefore TV Expansion
My Watch Therefore TV program certainly is a Poured Out for the Nations labor of love. This program goes out weekly to over 200 countries and 200 million homes! The cost of this Poured Out work is very expensive and we just stepped out in faith adding the GEB network to our Direct TV programming.
All I can say is that if it is the Lord's will it is the Lord's bill! Please pray that our Lord Jesus raises up those who will partner with us in a deeper way for this television gospel/discipleship outreach. Certainly, like the Psalmist says:
"My help comes from the LORD Who made heaven and earth." Psalm 121:2
This TV outreach has two primary purposes:
1) Make faithful, wise, blessed disciples of Christ Jesus who are watching and ready for His anytime coming to take us back to that place He has been preparing for us. (Matthew 24:42-47/John 14:1-3).
2) Most every program I share the life-saving gospel with the lost according to the Scriptures noted at the beginning of this letter.
For those who would like to prayer partner with our ministry Poured Out for the Nations here are some closing prayer points:
•A revived heart to walk with Messiah Jesus in these final hours of this age
•Direction and funds for India in January
•Great Holy Spirit leading for our Watch Therefore Africa team
•Fruitful disciples of Jesus Christ to grow from our ministry efforts
•Many souls to be saved through our Holy Spirit led Kingdom efforts
•Great Holy Spirit leading for Watch Therefore TV content
•Funds for current and greater Watch Therefore TV expansion
•Poured Out monthly financial support for our ministry partners in Africa: Kenya, Rwanda, DRC and also Bishop Reinhard India
Watch therefore, for you do not know what hour your Lord is coming. But know this, that if the master of the house had known what hour the thief would come, he would have watched and not allowed his house to be broken into. Therefore you also be ready, for the Son of Man is coming at an hour you do not expect. Matthew 24:42-44
In His service,
Dov Schwarz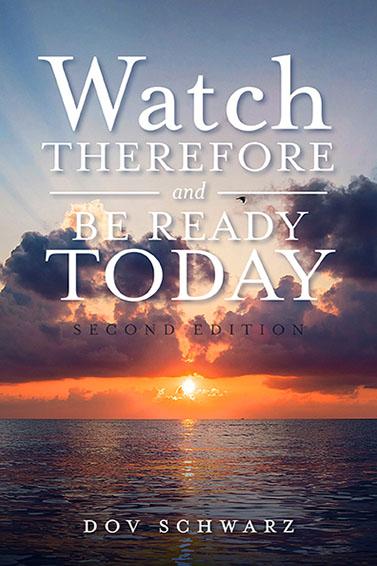 ---
Watch Therefore and Be Ready TODAY - 2nd Edition
Receive a complimentary copy as a thank you with your generous gift of any amount.
Please be sure to note "WTBR Today" in memo/note section of check or MO or in comment section for online donations.
Click Here to donate!
---


Don't forget! Watch Therefore Television Program
Now on CTN, NRB-TV, and Inspiration TV
Check Cable, Satellite & Local Listings for days & times
Send your tax deductible gifts to:
Poured Out For The Nations
PO Box 564, Pearland, TX 77588 USA
Phone: 713-624-0943 Email: [email protected]
Or Donate Online At:
www.PouredOutForTheNations.com/donate
Poured Out For The Nations is a division of Watch Therefore Ministries, Inc.