October 2016
Dear Poured Out Followers Of Messiah Jesus
---
There are two primary opportunities I will write about in this letter and both point to a single concept we see in the Bible. The first is a real answer to prayer which is our media that is expanding and the other is a new place to preach in Africa. Here is what our Savior says to His believers in Philadelphia that applies to His people today that follow Him in the same way they did then.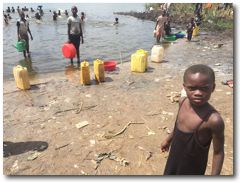 Revelation 3:7 "And to the angel of the church in Philadelphia write, 'These things says He who is holy, He who is true, "He who has the key of David, He who opens and no one shuts, and shuts and no one opens" 8 "I know your works. See, I have set before you an open door, and no one can shut it; for you have a little strength, have kept My word, and have not denied My name.
Our Lord Jesus tells His people who, though they are weary and have only a little strength, still keep His word and do not deny His name in the face of trouble, that He has given them an open door that nobody can shut! I strongly believe our Lord Jesus has given me an open door for many opportunities-and as I said, I will mention two and ask you to pray with me for them.
New Media Open Door – Watch Therefore Television Program!
Until about four years ago I had hosted a television program that was broadcasted on an estimated 167 cable networks across America. I knew the Lord was telling me the season for that program was ending and that I should "pull the plug" which I did. I had great partnership and response from the program, including income, but our Heavenly Father knows best so I obeyed Him and ended the show.
Soon thereafter He gave me the idea for a program called "Watch Therefore" and then He opened a door for it to be broadcast as a radio program. The program airs 5 days a week and is a consistent daily commitment. After we moved to Israel the Holy Spirit began showing me that I was to take the new format for the program to television-Hallelujah! I am going back on TV and I am thankful and confident it is His will, not just mine! At this point I am also going to maintain the radio program but I am open to laying it down if that is God's will. Through a year of praying, seeking counsel, and the Lord teaching me to wait for His timing here are a few developments: The Sea of Galilee is our "TV set" and is just outside my back door! We have a precious soul for a camera and production man-a brother in Messiah Jesus, who is dedicated to our ministry and has become a good friend. Our program has been approved with a national born-again network that will broadcast the program weekly to an available audience of 42,000,000 on "Dish" and "Direct TV" across North America, and in addition a satellite that reaches about 75% of the world!

Our message of "Watching For King Messiah Jesus" and doing as He commanded until He comes according to the message of the "Faithful Servant" of Matthew 24 in the New Testament will go out to much of the world. We can also tell them of all the people we are helping in Africa and beyond. We have orphan projects, Bible translation opportunities, Gospel preaching to so many thousands, and much more! I have recorded what will be five programs so far and I share the gospel at the end of them. I trust and pray that many precious souls will be saved as we race toward the Day of The Lord! We expect new opportunities for prayer and financial partnership that could facilitate so much Kingdom advancement-"Thy Kingdom come Thy will be done on earth as it is in heaven…"
The second open door is a new opportunity in Africa. The Lord has opened a door in very large churches with very special pastors in Nigeria. This African country has experienced so much pain and suffering especially in the Northern part of the country at the hands of Muslim terrorists. The Southern part of the country is largely Christian while the North is largely Muslim. One of the pastors we will be working with is leading a church of many thousands of Nigerians and we are making plans now for me to lead special gospel preaching meetings, pastor conferences, and more. Of course I will be visiting orphans and widows there as well, because that is what we are supposed to do-James 1:27.
How can you help? These new opportunities come with a sharp increase of expenses. TV is very effective and is also very expensive. All I can do is remember that like the Psalmist says "My help comes from the LORD, Maker of heaven and earth." So, if you would like to be part of His plans to help, please consider going to Him in prayer and asking if you are supposed to help and if so please ask Him how He would have you do so. Messiah Jesus told us that His sheep hear His voice and follow Him. Please pray as our Abba Father operates by faithful prayer in Messiah Jesus. We are gathering funds now for these new efforts along with maintaining so many commitments we already have.
I will keep you updated and may we see a harvest of saved disciples who watch therefore and are ready for our soon coming Savior Jesus Christ! FYI, the TV program is to begin (Lord willing) the second week of January, 2017.
---
Blessings and Grace in Messiah Jesus,
Dov Schwarz
Send your tax deductible gifts to:
Poured Out For The Nations
PO Box 564, Pearland, TX 77588 USA
Phone: 832-878-0756 Email: [email protected]
Or Donate Online At:
www.PouredOutForTheNations.com
Also visit our blog address!
www.PouredOutForTheNations.com/blog
Poured Out For The Nations is a division of Watch Therefore Ministries, Inc.