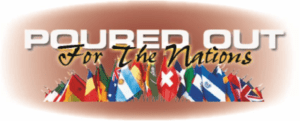 "We are rejoicing
to be Poured Out
For The Nations!"
Dear Poured Out Followers of Messiah Jesus,
Think of these powerful words with me: "I got saved!" These are words that we used to hear proclaimed with great excitement, joy, and power. It seems this special proclamation has been missing from so much of the "Christian" discourse. But aren't these words to be the center of our very lives?
Speaking of the once hated and crooked tax collector Zacchaeus, our Savior says these powerful words:
And Jesus said to him, "Today salvation has come to this house, because he also is a son of Abraham; for the Son of Man has come to seek and to save that which was lost." (Luke 19:9,10)
The reason this King Savior Jesus left His glory in heaven to become the great Suffering Servant dying on the cross was to facilitate me crying out these words with great joy: "I GOT SAVED!" Of course our risen Lord is now at the right hand of our Heavenly Father preparing to come to get His saved ones and bring them/us to that special place He has been preparing for us.
"Let not your heart be troubled; you believe in God, believe also in Me. In My Father's house are many mansions; if it were not so, I would have told you. I go to prepare a place for you. And if I go and prepare a place for you, I will come again and receive you to Myself; that where I am, there you may be also"? (John 14:1-3)
This reality, coupled with the signs all around us that it can't be long now, actually shook me out of my deep trench of sin and wickedness. I found myself becoming legitimately fearful of missing the rapture and with a great burden of the weight of my many sins. I also did not know how to stop my evil lifestyle or where to begin to seek after a new life.
Then what happened? This beautiful Savior became so real to me by the great Helper whom our Father sent to bring me to my knees. I began seeing my sins as the source of all my problems as the wages of sin is death. Yet, then this great Helper began to show me the rest of the verse-but the gift of God is eternal life in Christ Jesus our Lord-oh Hallelujah! (Romans 6:23)
After months of agonizing and seeking I lifted my hands in the air with tears streaming down my face--and I GOT SAVED! Truly, old things passed away as I became a new creation in my Savior Jesus! (2 Corinthians 5:17) Oh how thankful I am to be saved!
While there is yet a little time what should we be doing? We have been left here to finish the mission in the service of our Great King and soon returning Savior! We are to be working together to hear others say "I GOT SAVED!" Oh Hallelujah!
Many years ago the Spirit filled global missions movement began to send powerful witnesses to the grace and mercy of Abba Father through His only begotten Son to the ends of the earth. They risked and even gave their lives to hear people say these three powerful words (I GOT SAVED!). When those great witnesses were asked why they would sacrifice so much here was their response:
"Shouldn't our Savior Jesus receive the reward for His suffering?"
And what is the reward for His suffering? It is precious born again souls crying out with tearful joy "I GOT SAVED!" Now, it is our turn to make every sacrifice necessary in praying, giving, and going with the gospel of our Savior Jesus!
September 2019 I GOT SAVED Opportunity:
Rwanda Mission Trip
I am leaving Israel September 7 for Rwanda to serve in a special church with an affiliation of 3,000 churches. I have spoken in many of them, yet it was many years ago. We will operate from one church, yet preach to the lost, work with pastors from many churches, and visit orphans and widows and bless and comfort them in our Savior Jesus!
I will be preaching the gospel and teaching the Watch Therefore message preparing precious souls to be ready for our King to come for us. And, most certainly I will be reminding everybody who has this testimony-to proclaim with great joy and confidence these three powerful words: "I GOT SAVED!"
As this Helper calls you please consider if you have a part to play in this salvation, discipleship, orphans and widows opportunity. What kind of part to play? Though you haven't been called to get on a plane and go to Rwanda in September, your prayers can go without plane fare! The resources our Father has given you to steward could go to help sow into this great Kingdom opportunity! There is my plane fare, food, transportation, and other expenses.
Prayer points for those praying:
-Hearts to be prepared for the Word and the Holy Spirit's moving!
-All travel to be accompanied by heaven and blessed!
-For me to preach the word as I ought!
-For precious souls to be saved!
-For deep discipleship that will bear everlasting fruit!
-For my family and ministry protection while I am away!
-For a powerful testimony of what the Lord has done!
In advance I am praising this King Savior Jesus and thankful that I GOT SAVED!
In His Service,
Dov Schwarz


Don't forget! Watch Therefore Television Program
CTN-Christian Television Network - Saturday 10:00pm EST
Inspiration TV - Wednesday 11:00am EST
Send your tax deductible gifts to:
Poured Out For The Nations
PO Box 564, Pearland, TX 77588 USA
Phone: 832-878-0756 Email: [email protected]
Or Donate Online At:
www.PouredOutForTheNations.com/donate
Poured Out For The Nations is a division of Watch Therefore Ministries, Inc.