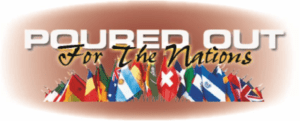 "We are rejoicing
to be Poured Out
For The Nations!"
Dear Poured Out Followers of Messiah Jesus,
Truly our ministry is now like never before pouring out to the nations of the world! Many years ago I was in my house in Texas and heard something from the Lord very clearly. Yet, to help effectively share this with you, first I will give a scripture that the Lord gave to me.
"No longer shall your name be called Abram, but your name shall be Abraham; for I have made you a father of many nations." (Genesis 17:5)
Abram, the father of our faith, had an active faithful walk with the Lord. He lived a life of faithfully moving out on the promises of God. Though he was childless Abram's name meant "exalted father." Then, while still childless, the LORD changed his name to "father of multitudes" Abraham.
You see I had a small yet active ministry in Africa called Poured Out For Africa. I was so happy traveling to many African countries and preaching the gospel-seeing many people saved and discipled in the word of God. I was in Africa about three times per year and have ministered in ten African countries.
As I mentioned, just over ten years ago the Holy Spirit spoke to me and told me that like Abram's name was changed to Abraham our ministry name would change from Poured Out For Africa to Poured Out For The Nations. I really did not know what to think, but in faith I changed the name of our ministry to Poured Out For The Nations.
In the midst of these times I was learning how to teach the Bible on television. I had my own program on a small network based out of West Texas. Abba Father was teaching me how to arrange teachings from His word for broadcast. I did this for about two years.
Then the Lord moved my wife, son, and myself to Israel and during this time I was still ministering in Africa and I still do. Yet, I woke up one morning with an understanding that I was to begin a television program teaching the urgency of this generation, preaching the gospel, and teaching the Bible to the nations from Israel!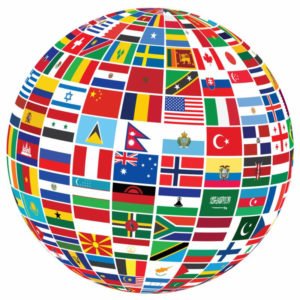 Also, during that time the Spirit of the Lord began moving in my son's heart to learn how to produce my television program! He has amazingly learned camera work, editing and other post-production work, and all that is necessary to produce my television program WATCH THEREFORE.
And now, where does our program go? WATCH THEREFORE reaches out to over 200,000,000 (two hundred million homes) in over 200 countries in the world! Truly, just like my Savior told me, we are Poured Out For The Nations!!!
POURED OUT FOR THE NATIONS:
WHAT DOES IT MEAN?
"Yes, and if I am being poured out as a drink offering on the sacrifice and service of your faith, I am glad and rejoice with you all." (Philippians 2:17)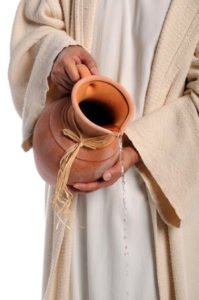 Remember, Paul the apostle was in prison for the gospel's sake when he wrote to the Philippian believers in Messiah Jesus. He was so thankful to sacrifice his life for their faith. Paul compared his life to a drink offering that was poured out on the altar of sacrifice in the Jerusalem temple as a sweet smelling aroma for the LORD.
With Paul as our example, we should be very excited to pour our lives out as a sacrifice for the faith of others. Our program WATCH THEREFORE takes a great deal of spiritual, physical, prayerful, and financial sacrifice to produce on a weekly basis. But think of it, we are reaching over 200 countries with the gospel and discipleship in the word of God during the most critical generation ever!
Please prayerfully consider standing with us prayerfully and financially and together let's be POURED OUT FOR THE NATIONS!!!
Prayer Points:
Watch Therefore Program - New saved souls, faithful disciples of Messiah Jesus, financial support to stay on the air.

Two Kenyan Pastors we financially support monthly

Abba's will regarding two mission trips:




September - Rwanda/Congo




October - India

Wisdom and revelation in the knowledge of our heavenly Father and our Lord Jesus Christ

Protection and provision for our family living in Israel.
Once again, we thank our Savior Jesus for all those who pray for us and support us financially. We pray for you by name regularly and like Paul pronounced over the Philippians who supported him we claim Philippians 4:19 over your lives: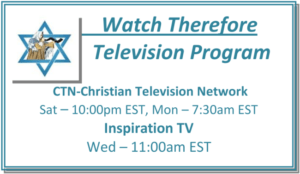 And my God shall supply all your need according to His riches in glory by Christ Jesus. (Philippians 4:19)
Hallelujah and Maranatha,
Dov Schwarz


Don't forget! Watch Therefore Television Program
Saturdays - 10pm EST/9pm CST, Mondays - 7:30am EST/6:30am CST
CTN-Christian Television Network, available on DISH NETWORK, DIRECT TV, & ROKU.
Now available on KAZQ New Mexico and LightSource!
visit KAZQ: https://kazq32.org for details and local listings!
LightSource: https://www.lightsource.com
Also find us on social media:



Send your tax deductible gifts to:
Poured Out For The Nations
PO Box 564, Pearland, TX 77588 USA
Phone: 832-878-0756 Email: [email protected]
Or Donate Online At:
www.PouredOutForTheNations.com/donate
Poured Out For The Nations is a division of Watch Therefore Ministries, Inc.