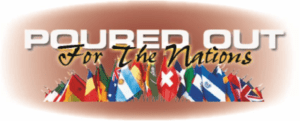 "We are rejoicing to be
Poured Out For The Nations!"
Philippians 2:17
Dear Poured Out Followers of Messiah Jesus,
Rwanda Mission Trip
"And He said to them, "Go into all the world and preach the gospel
to every creature."(Mark 16:15)
What an exciting and fruitful year the Lord has given us—2022! Finally, we are preparing for our Rwanda mission trip. After two years of trying to return we are going in July to Rwanda. I will remind you of some of the blessed things the Lord did last time I was there and also what He has been doing with us on Zoom.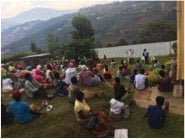 I was in neighboring Burundi and Rwanda just as the pandemic was breaking in January/February 2020. Only airport employees were just beginning to wear masks. This is the trip where we saw the fruit of one hundred former prostitutes who had prayed to repent and receive Jesus as Lord and Savior on a previous trip. They brought many with them to a meeting on a hillside where many more prayed to receive the Lord!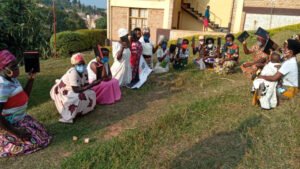 These ladies were modestly dressed and gave great testimony of great things God had done, reading the Bibles provided by our Poured Out partners. Oh what glory and honor they gave our Mighty To Save Lord and King Jesus! Our ministry has been helping monthly with bulk bags of rice and beans to help them. In great poverty they turned away from their only source of income to live new lives with the Source of Life—Messiah Jesus!
Since then, as we have been unable to go to Rwanda, I have been conducting Rwanda pastor conferences on Zoom. We have reached about 1500 pastors—50 at a time all across Rwanda. Our organizing partner is Pastor Herman Gatware who is quite a servant of the Lord. We have developed relationships with so many pastors and hundreds of churches through this partnership.
The pastors have been pleading with me to come to Rwanda, which I have been unable to do—UNTIL NOW! We are believing for a BIG time in Rwanda in July this year. And, here is where you can come in and be part of it.
We are planning church meetings, outdoor preaching events, pastors meetings and more. I am prayerfully asking our Savior and Provider Jesus to fill our baskets with $15,000 for this trip. With the economy of the world tanking like it is—what better place to lay up your treasures in heaven than to invest in precious hungry souls like these in Rwanda, Africa.
While so many are shaking their fists in our Heavenly Father's face today—these are humbly asking Him to fill their lives with His presence and goodness. Truly, like Isaiah the prophet, I am saying to the Lord "Here am I send me!"
I will be taking our television program producer on this trip, which adds another layer of expense—but Lord willing will also provide another layer of witness to what great things our Savior Jesus will do. We so want to show pictures and video of our trip that they may see our good works and glorify our Father in heaven! If you would like to participate just make sure to write in the check memo section or type in the notes of online giving "Rwanda Trip."
---
Once again, in May I will be teaching from my book America's Ark The Only Safe Place For Americans Today. The things I wrote about in 2010 are leaping off the pages of this book. It is because they are prophetic things from the Bible—the most current and powerful book in the world! Hallelujah, though these will be difficult times—our great God and Savior Jesus Christ has a way forward for those who love Him and will listen to Him by the Holy Spirit!
Please do pray for our television broadcast. The monthly costs of the program are so high—but the need for people to hear it—and the potential to help and bless precious souls all over the world with the program—makes it worth the cost. You can go to our website watchtherefore.tv to find out more.
Finally, I want to list some powerful Scriptures that will help you tremendously in these challenging hours. Remember, our Savior is coming for us any moment and we need to be ready! Many blessings in our Savior Jesus name!
"Rejoice always, pray without ceasing, in everything give thanks;
for this is the will of God in Christ Jesus for you." (1 Thessalonians 5:16-18)
"Finally, brethren, whatever things are true, whatever things are noble, whatever things are just, whatever things are pure, whatever things are lovely, whatever things are of good report, if there is any virtue and if there is anything praiseworthy—meditate on these things." (Philippians 4:8)
"Do not lay up for yourselves treasures on earth, where moth and rust destroy and where thieves break in and steal; but lay up for yourselves treasures in heaven, where neither moth nor rust destroys and where thieves do not break in and steal." (Matthew 6:19-20)
In His service,
Dov Schwarz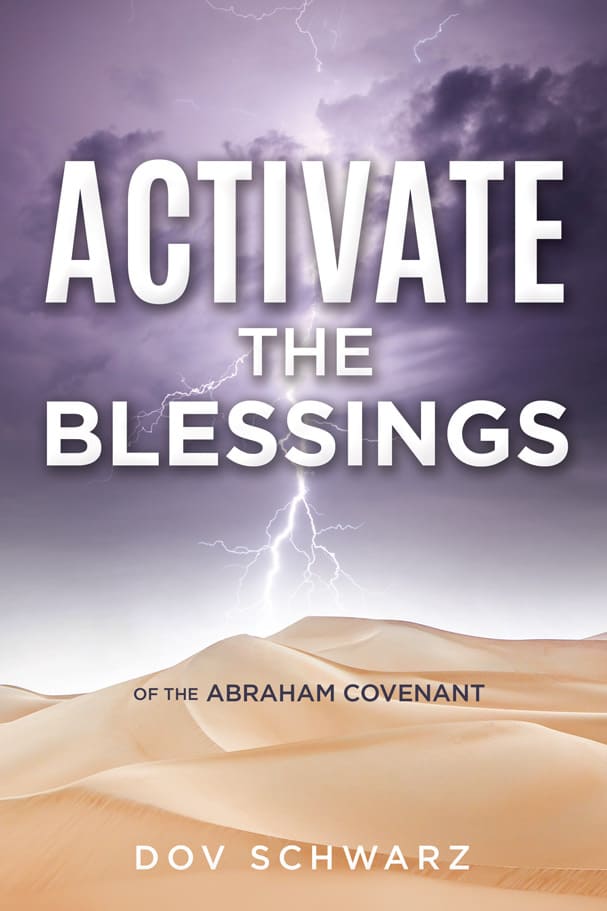 ---
Dov's New Book is Now Available!
Activate the Blessings of the Abraham Covenant
For a donation of any amount! Please be sure to note "ATB" in memo/note section of check or MO or in comment section for online donations.
Click Here to purchase!
---


Don't forget! Watch Therefore Television Program
CTN-Christian Television Network:
Saturday 10:00pm EST
Monday 7:30am EST
Inspiration TV:
Wednesday 11:00am EST
The Walk:
Sunday 9:00pm EST
Send your tax deductible gifts to:
Poured Out For The Nations
PO Box 564, Pearland, TX 77588 USA
Phone: 713-624-0943 Email: [email protected]
Or Donate Online At:
www.PouredOutForTheNations.com/donate
Poured Out For The Nations is a division of Watch Therefore Ministries, Inc.