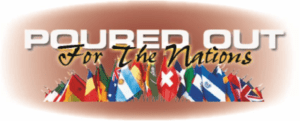 "We are rejoicing
to be Poured Out
For The Nations!"
Dear Poured Out Followers of Messiah Jesus,
SPECIAL RWANDA OUTREACH UPDATE
Things I have been praying about for a long time are setting up for early 2020! Prayers began coming true on our latest trip to Rwanda. For those who are praying and desiring to see many saved by our Lord Jesus this letter will be especially appreciated.
Since moving to Israel much of my Africa work has been set a side until now. I have not been able to go to Rwanda for many years and now the Lord has opened a very special and fruitful door of opportunity. A dear friend of mine introduced me to Pastor Herman who is very influential in an evangelical denomination of about 4,000 churches in Rwanda.
Here are just some of the many passages you will see lived out in power and grace on this trip:
And Jesus came and spoke to them, saying, "All authority has been given to Me in heaven and on earth. Go therefore and make disciples of all the nations, baptizing them in the name of the Father and of the Son and of the Holy Spirit, teaching them to observe all things that I have commanded you; and lo, I am with you always, even to the end of the age." Amen.
(Matthew 28:18-20)
For I am not ashamed of the gospel of Christ, for it is the power of God to salvation for everyone who believes, for the Jew first and also for the Greek.
(Romans 1:16)
Pure and undefiled religion before God and the Father is this: to visit orphans and widows in their trouble, and to keep oneself unspotted from the world.
(James 1:27)
And the things that you have heard from me among many witnesses, commit these to faithful men who will be able to teach others also.
(2 Timothy 2:2)
During this special missions outreach the Spirit of our Lord gave me great favor with Pastor Herman as we have a kindred spirit from our Savior Jesus. He also wants to see the lost saved and for Christians to be ready for the soon coming of our Savior and Lord! Listen to what the Lord did on our trip together with him and other special brothers in Messiah Jesus.
I first spoke at a special church meeting where pastors from allover Rwanda were present. When they saw precious souls come forward to be saved at the end of the gospel message-the pastors were very thankful and happy. This strategic Holy Spirit filled meeting caused many of the pastors to ask me to come to their churches!
We also went to poverty stricken villages where there were orphans. According to our Father's word we encouraged the precious ones and saw salvation come to the village as two neighbors of an orphaned family of children came to our Savior Jesus! We went to two such villages and saw over thirty precious souls receive Jesus as Lord!
A young man named Erneste was assigned to schedule and help me and he organized a pastor's conference where many pastors were blessed. They were especially thankful to better understand their Bibles regarding the "real" Jesus Christ, covenant and prophecy, and preparing for the coming of Messiah Jesus in the Rapture and then our return with Him to reign in His Kingdom. Reaching pastors with the urgency of this generation can help the message spread more efficiently and obeys the 2 Timothy passage cited in this letter.
Actually, much of this trip was an introduction for the pastors to get to know me so they could have peace about our future work together. That has certainly been established and we are planning to begin very intense gospel and Bible teaching outreach in January 2020. Included in this introduction was a way back into Burundi.
Burundi is a country that neighbors Rwanda and an Israel loving pastor from there named Fabian also accompanied me during much of my trip. He is arranging preaching/teaching opportunities for me there in January. Again, this is many years of prayer come true!
Think of this: though this was mostly an introduction trip-we saw over 70 precious souls pray to receive Jesus as Lord, including 28 students from a boarding school! Beyond that, we saw so many pray to get their hearts right with the Lord to be His good and faithful servant according to the Watch Therefore message! Of course we praise our King and Savior Jesus for this, but trust that the best is yet to come!
Please remember and pray for our two Kenyan pastors with orphans that we support monthly. Also, remember our television program Watch Therefore that is in 200 countries and 200,000,000 (two hundred million) homes-many of whom have little to no resources to help keep us on the air. We want to reach them every month with the gospel and sound Bible teaching.
For all those financially supporting us we say "THANK YOU"! And to those who are not we say "please pray about laying your treasures up in heaven with us"! I will be updating more as we get closer to January. Until then, let's stay POURED OUT FOR THE NATIONS!
In His Service,
Dov Schwarz


Don't forget! Watch Therefore Television Program
CTN-Christian Television Network - Saturday 10:00pm EST
Inspiration TV - Wednesday 11:00am EST
Send your tax deductible gifts to:
Poured Out For The Nations
PO Box 564, Pearland, TX 77588 USA
Phone: 832-878-0756 Email: [email protected]
Or Donate Online At:
www.PouredOutForTheNations.com/donate
Poured Out For The Nations is a division of Watch Therefore Ministries, Inc.